Powerful stories of addiction and recovery reveal the real people behind the statistics
Two hundred staff, along with commissioners, housing and treatment partner agencies and friends of Emerging Futures from across the country attended our October staff conference – either in person at the Factory Works, Digbeth or online via Zoom webinars.
In a joyful day filled with tears and laughter, teams from our family, coaching, housing and behaviour change services described their work and its amazing impact on staff and service users.
Opening the conference – families and coaching
Everyone agreed on the importance of families to individual recovery journeys and the need for dedicated support for family members. Delegates heard how family support and coaching has been embedded in treatment services and the huge difference this makes to people struggling with addiction and those their behaviour has traumatised. People in recovery spoke of rebuilding trust and their joy at reconnecting with family members lost along the way.
Changing the direction of our lives – Tom Fitzsimons
Our guest speaker – Tom Fitzsimons – shared the story of his traumatic childhood and battle with addiction and explained how long-distance running became the key to turning his life around. Tom has now notched up 200 marathons, including running across America and completing the Marathon des Sables ultramarathon across the Sahara. Tom's simple message resonated with the audience: we can't change the beginning of our lives but we can change the ending: if we have a clear direction and focus on what we need, we will get what we want.
Recovery journeys through behaviour change and housing
Alongside impressive statistics about engagement and outcomes, staff (many of them former service users), volunteers and current service users told their powerful, real-life stories through video, personal testimony and song.
Their experience of homelessness, prison, addiction and loss and their path to recovery were intensely moving. The bravery, honesty and dignity of those who stood up to describe their journeys brought the audience to tears again and again.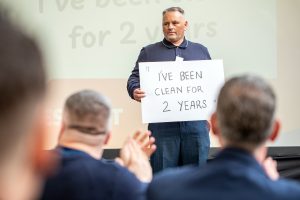 Reclaiming a place in society – Ray Jenkins
To close the day, Ray Jenkins, our Chief Executive, who is stepping aside in his role this year, ended the conference by describing his own battle with addiction and journey to recovery.
Ray underlined his belief that everyone can succeed if they have somewhere to live, something to do and someone to love. He spoke about giving people an opportunity to reclaim their place in society and the 'glimmer moments' which give them hope and the belief that life can change.
Ray had opened the day thanking staff for their resilience, brilliance, passion, dedication and ability and he closed the conference by commending the trusted team who share his values and will now pass on his work to the next generation.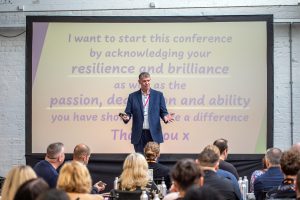 The ripple effect of impact
After a year of deep reflection on the meaning of impact and in-depth research resulting in the publication of a series of impact matters reports, we have come to a clear understanding of what our services achieve.
The word 'impact' means many things to different people – from the direct impact on service users lives, to gainful employment for staff, improved safety in the communities we support and savings to the public purse through reduced crime, addiction and ill health.
The impact of what we do ripples out and is felt by individuals, families and many others across generations. What we do matters, and we will continue to do our very best.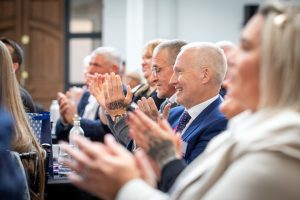 Read the Impact Matters series: 
Impact Matters – Behaviour Change